Platform
Be one team, break silos, connect the dots.
Juyo plays well with everyone
Juyo enables you to add external data sources in your dashboards: get creative with your data and extract maximum value.

Combine external data with your own and derive new insights that are not in the external tools.

At Juyo, we don't just replicate what your other data tools do. Instead, we craft new and complimentary ways to enhance that data.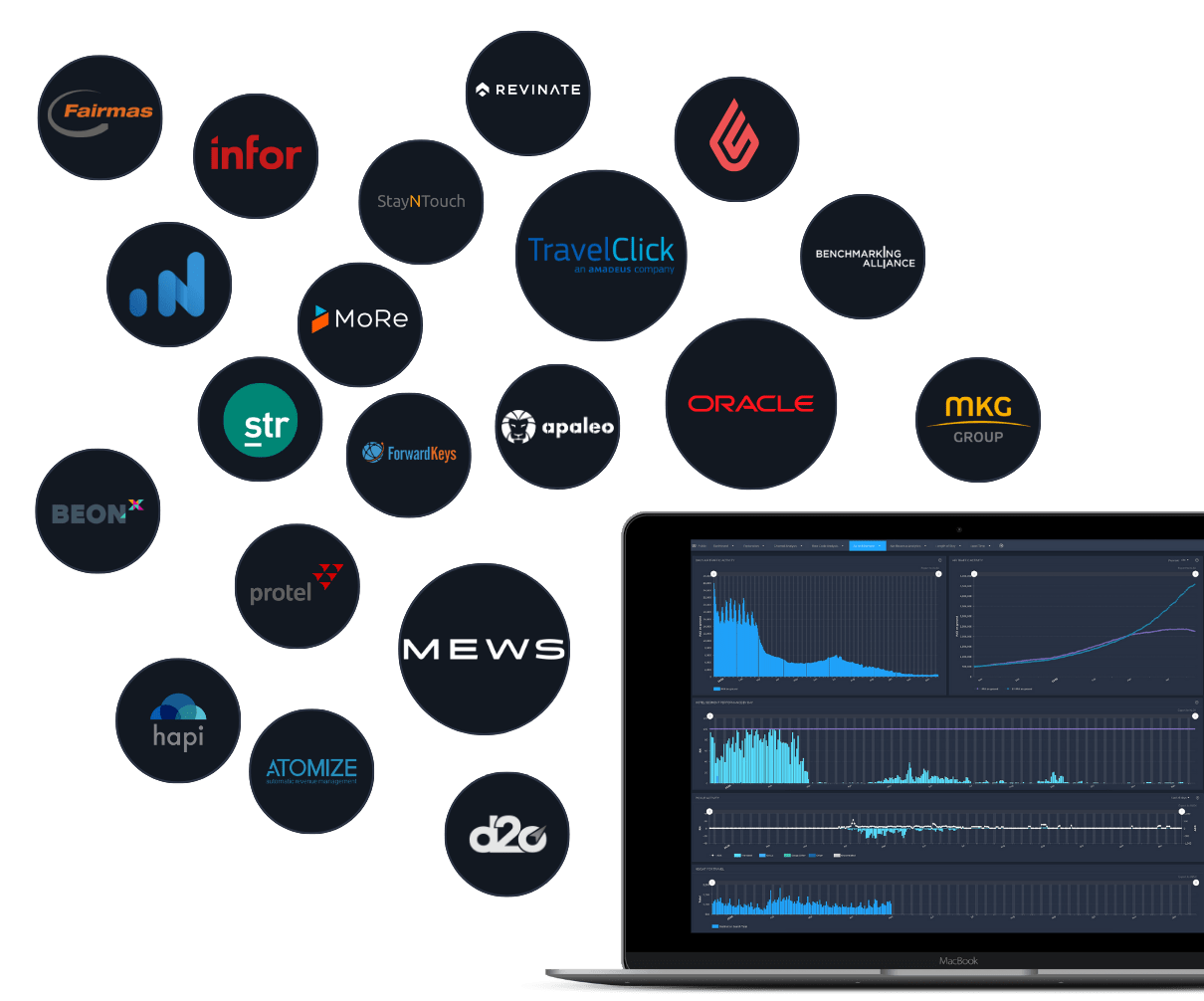 The Juyo Analytics Engine
The synergy of our analytics components coupled with the industry's most granular data model results into the world's most exceptional hospitality analytics experience.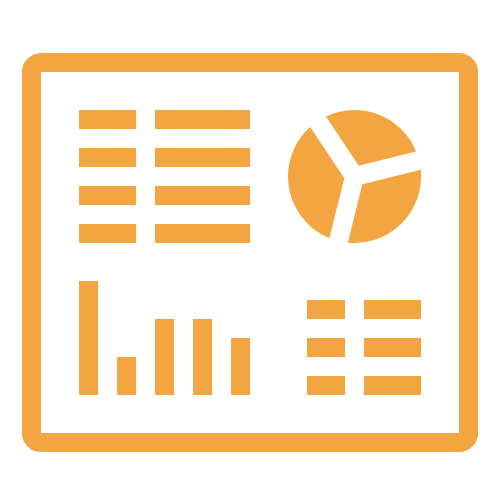 Canvas
The power to create – Make it personal and design as many analytics dashboards as you need.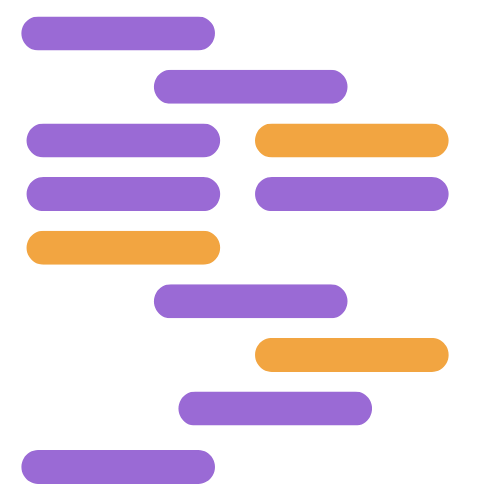 Exploration
Dive deep, discover more, zoom in and out. Granular multisource Analytics Engine that connect the dots.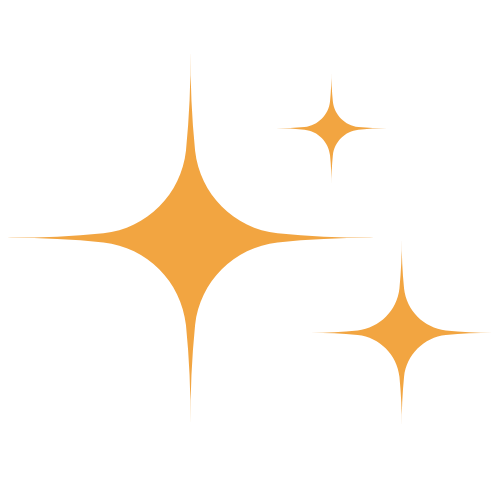 Constellations
Take decisions on day 1. Fully customisable analytics templates that get you started in seconds.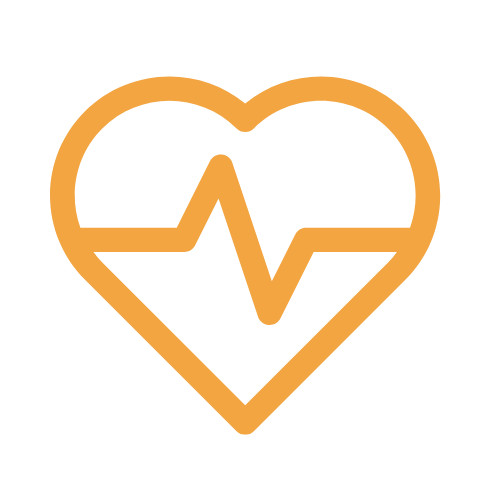 Pulse
All your vital KPI's in one place. Pulse is your KPIs universe unveiled.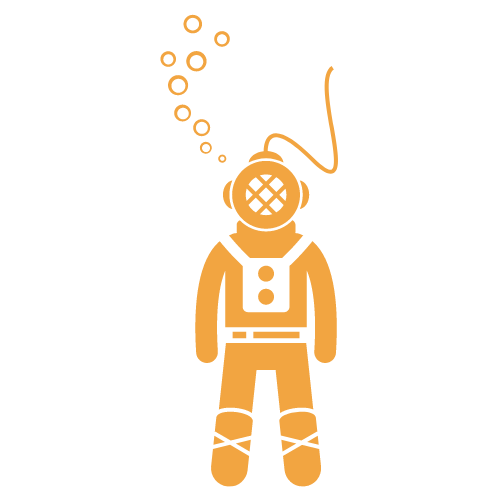 Deep dive
Exploration not enough for you? Go deeper than ever in your data to find hidden opportunities.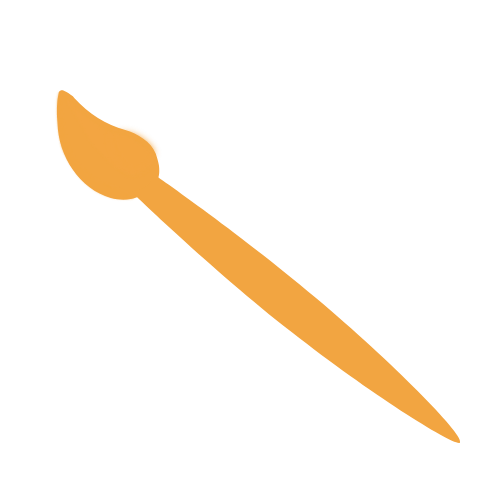 Designer
Still not enough? Build it yourself. Create super flexible data tables from scratch exactly how you want them.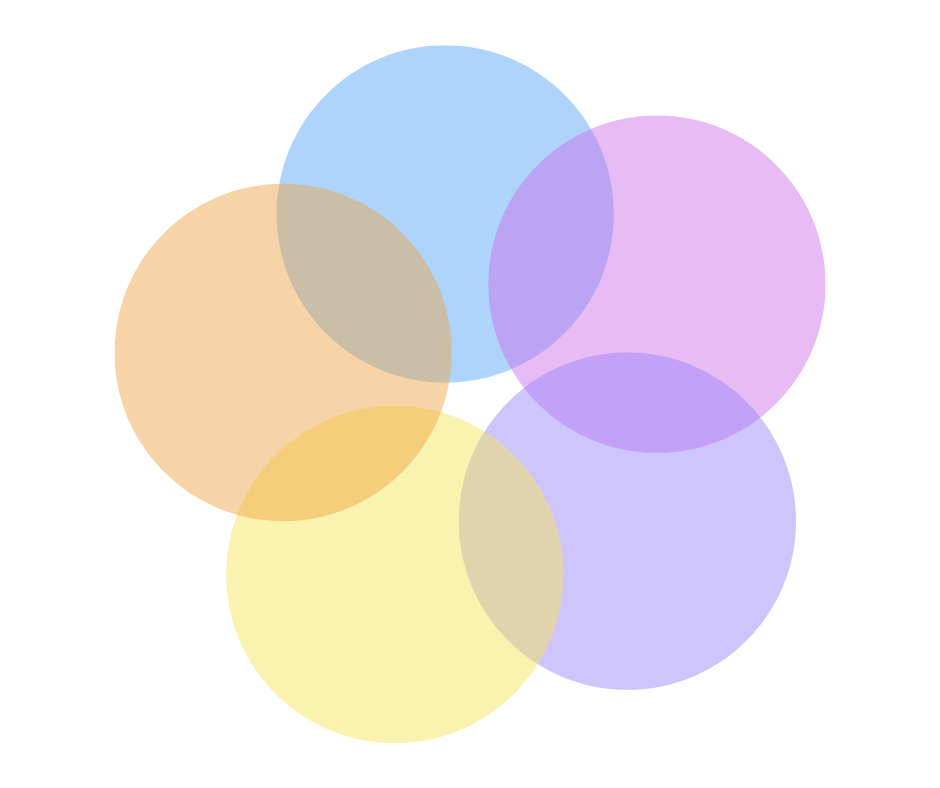 Juyo Data Visualization Platform
Where a Picture Speaks 10,000 Words
Canvas
Create jaw dropping data analytics visualisations
With Juyo's cutting-edge visual engine you can create and customise analytics visualisations that seamlessly integrate information from all your critical systems.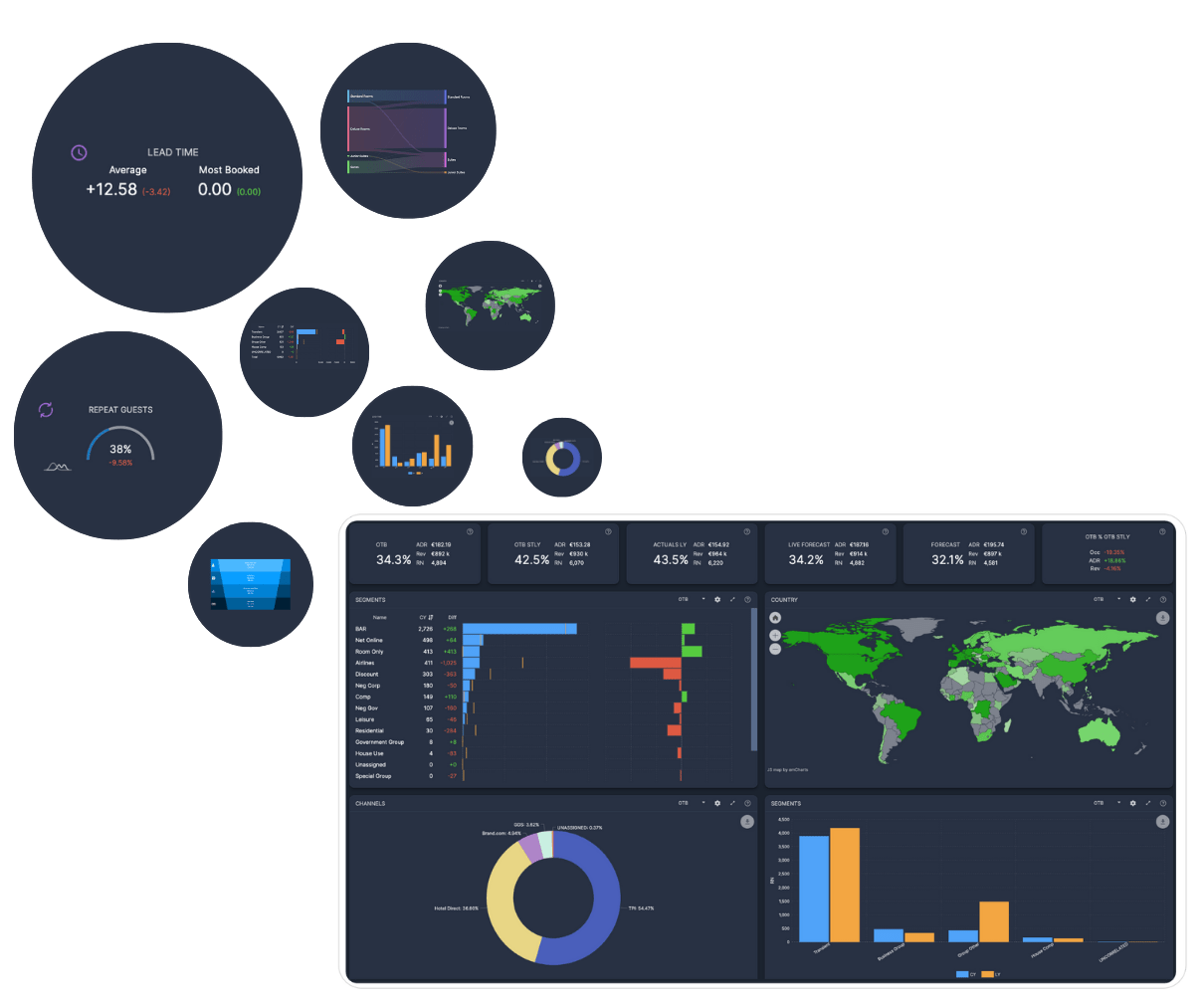 Exploration
Improve your revenue leveraging data exploration
Achieve your property's optimal business and channel mix, dive deep and slice and dice into segments, channels, rate codes, and all other booking dimensions to proactively respond to evolving booking behaviours, from length of stay patterns to occupancy trends.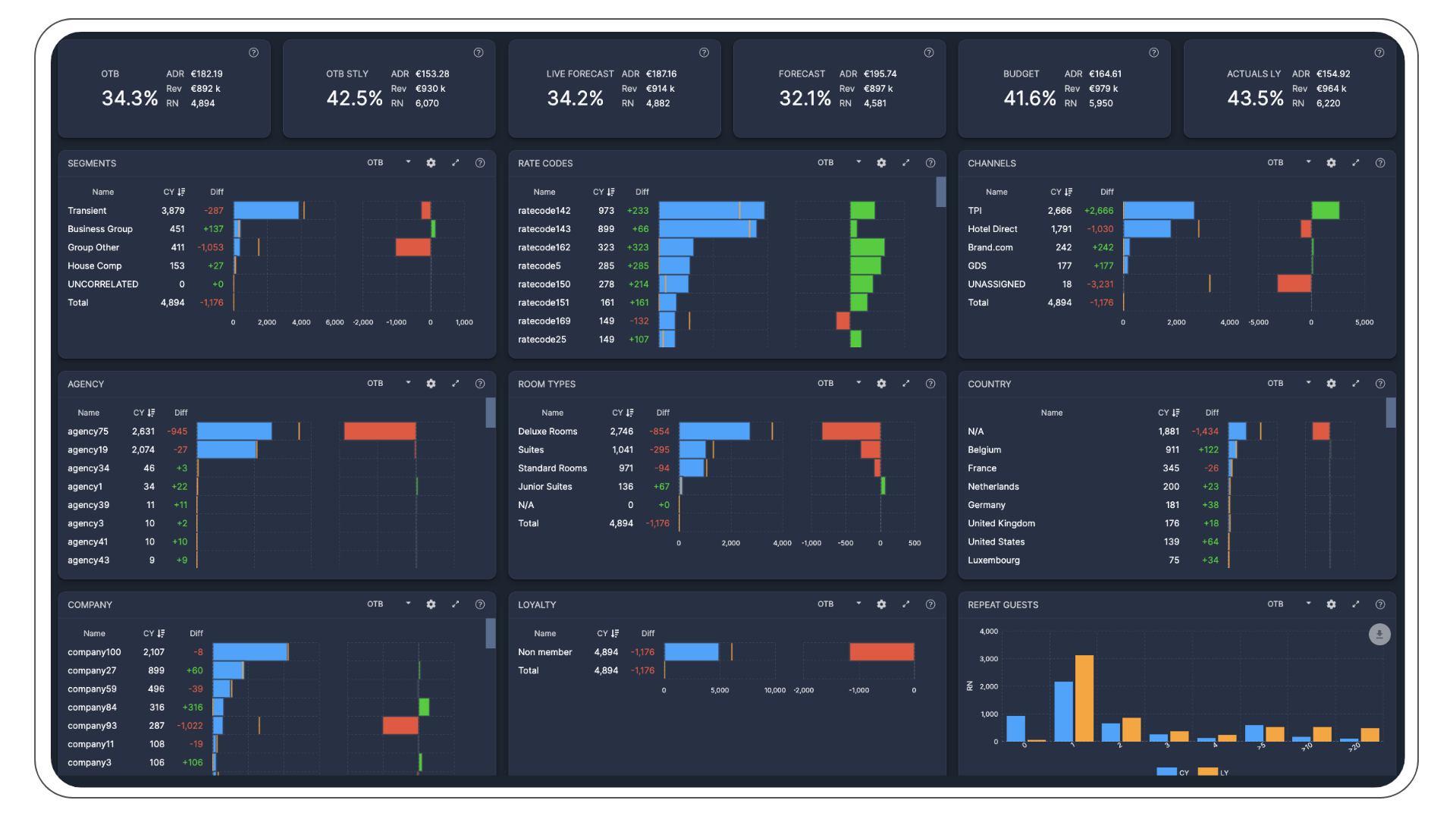 Market
Leverage external demand signals to outsmart your competition
Unlock competitive insights by decoding rivals' pricing strategies, fusing review and pricing data, integrating external sources, and monitoring demand signals from platforms like Demand 360 by Amadeus Travelclick, Otainsight, STR, airline arrival patterns and many more.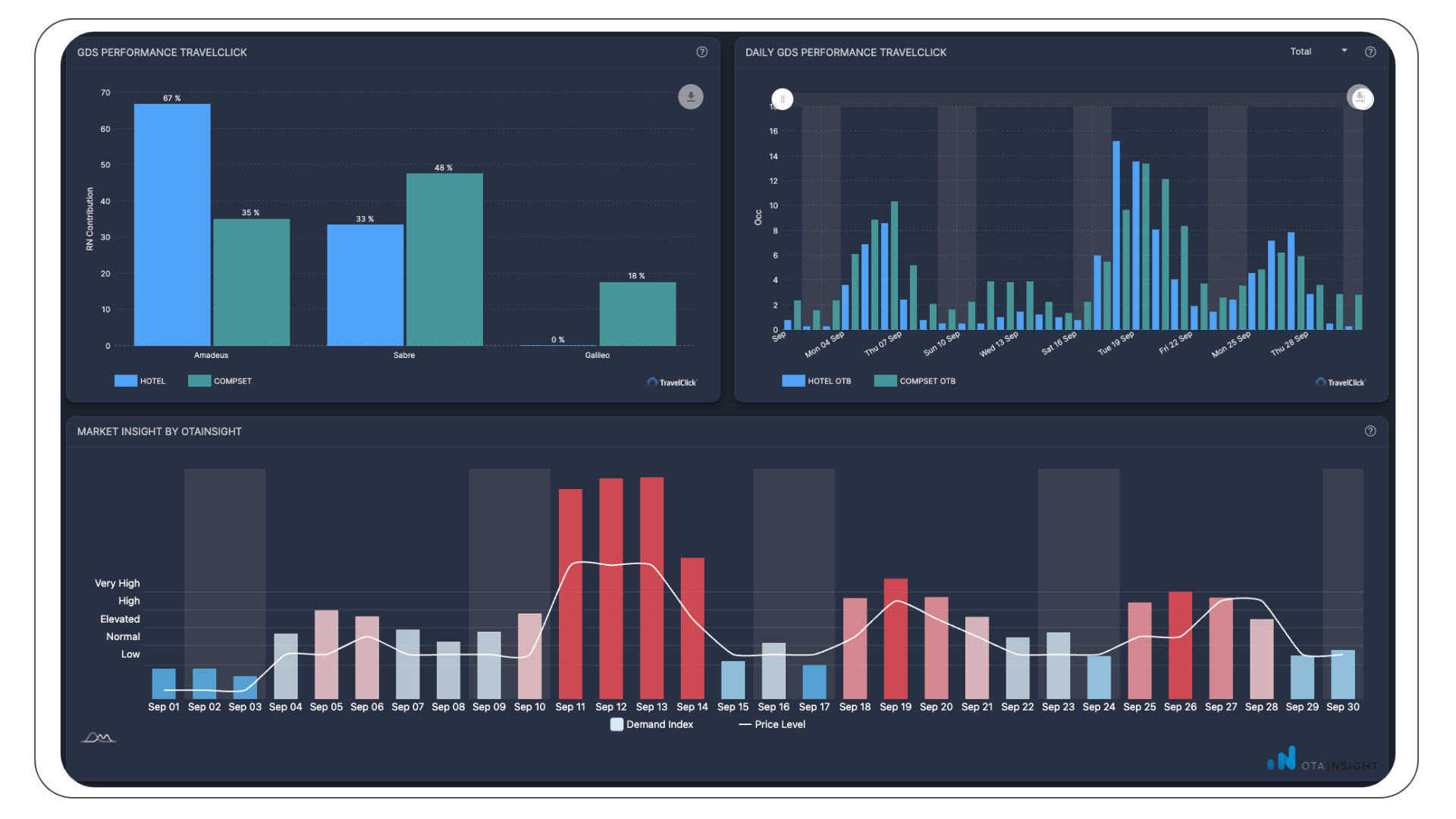 Profitability and total revenue
Measure Net Revpar & reduce distribution costs
Dive deep into your distribution costs and marketing spend, gaining clear insights into past and future Net ADR and RevPAR. Fine-tune your sales strategy, keep a keen eye on campaign ROI, and ensure your Net Revenue KPIs are in focus.
Forecasting
Forecast with Confidence
Build and maintain precise forecasts and budgets using smart spread algorithms, say goodbye to outdated Excel sheets, customize your data visualizations for a tailored business perspective, and enhance forecast accuracy while facilitating seamless communication across departments."
Consolidation
Analyse data across your portfolio
View unified, normalised data from all your hotels at a portfolio level. Dive into unlimited subgroups to analyse performance by brand, asset management, location type, and beyond. With Juyo, identifying new profit avenues and mitigating risks becomes second nature.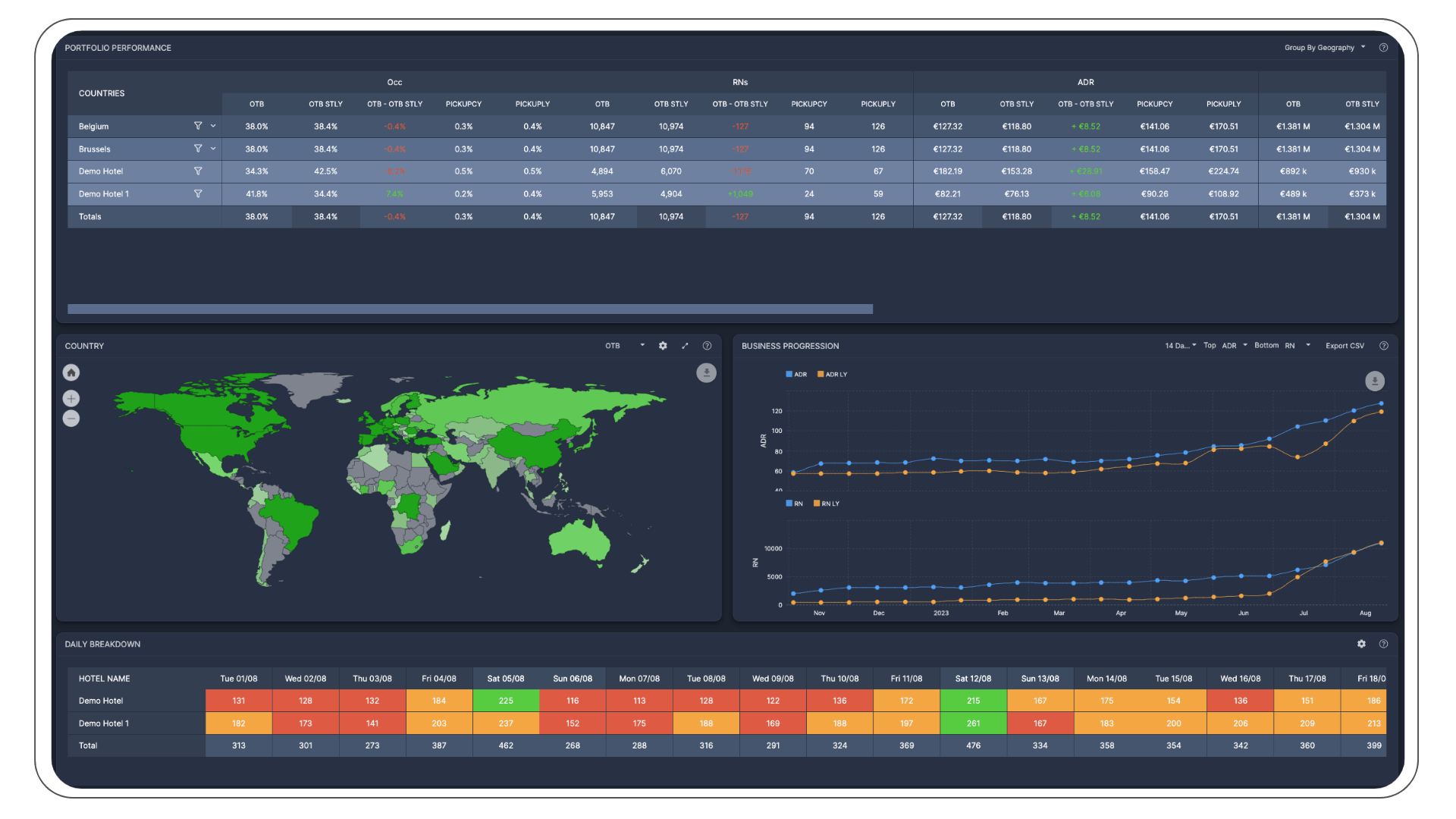 Profitability and total revenue
Master Total Revenue Management
Add new dimensions to your analysis by combining total spend and profitability at the customer level, enabling a deeper understanding of which customers drive more profit. This enriched perspective paves the way for tailored marketing strategies.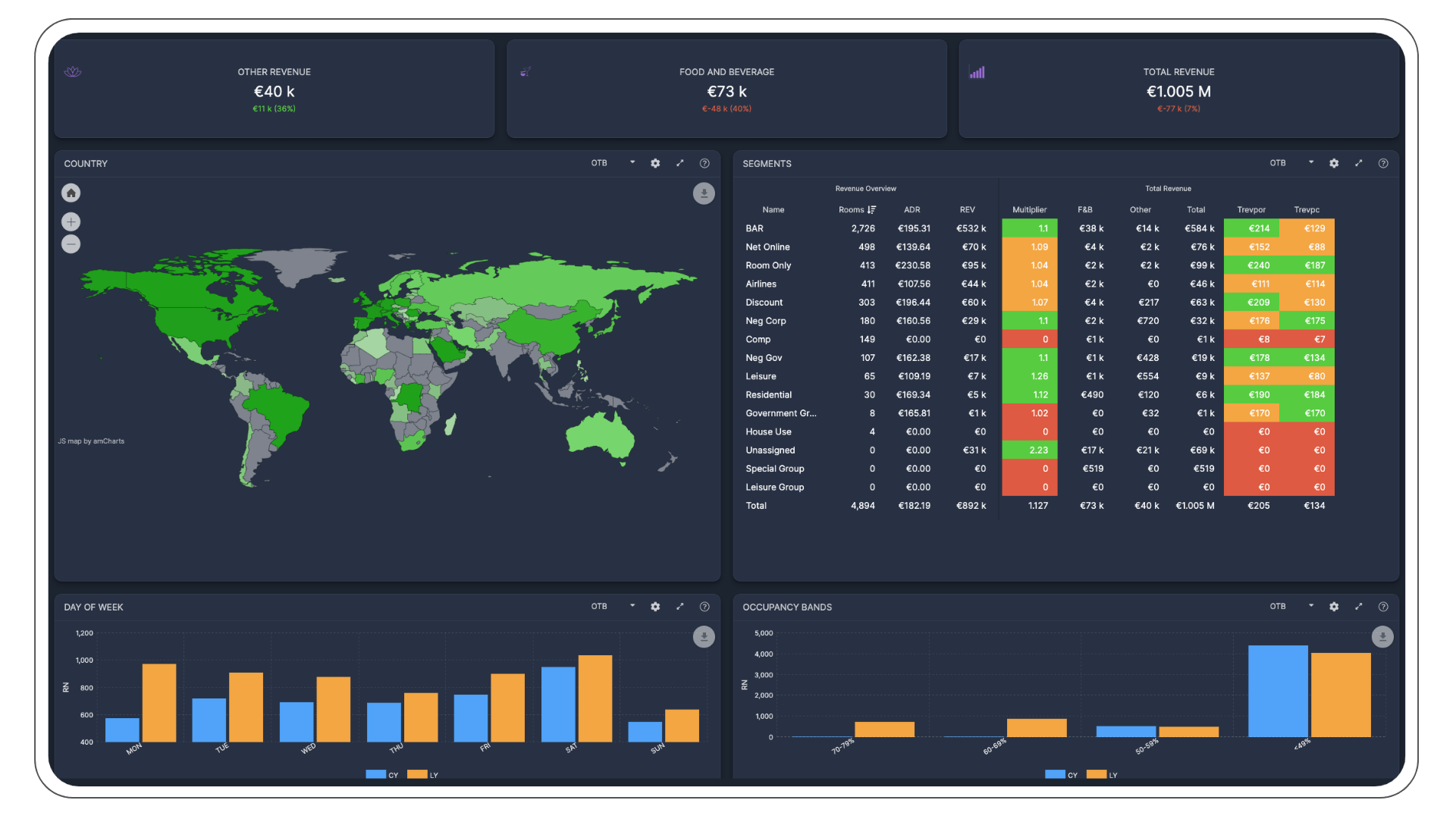 New!
Designer: The ultimate data table creation tool
Designer empowers you to create data tables from scratch. Think of Designer as a robust pivot table on steroids. Select Dimensions, and build tables with unparalleled flexibility. Want a periodic breakdown? Designer lets you seamlessly integrate different time frames, providing a temporal perspective on your data. Hint: there is more to come 😉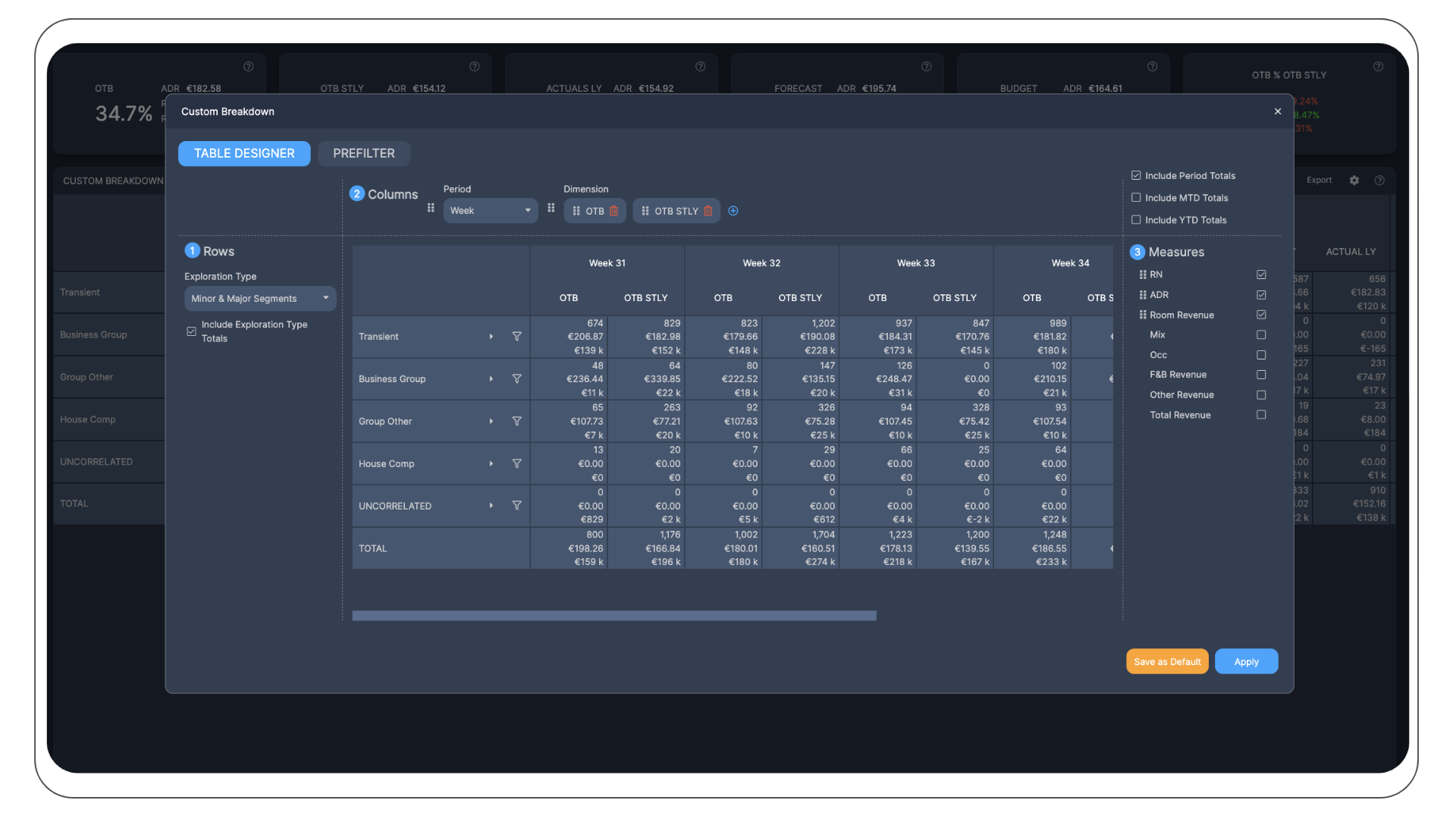 Juyo Magic
Analyze data by adding layers of context
Optimise every facet of your business. Master the nuances of room type dynamics with a keen analysis of booked vs. sold room types , highlighting upgrades, upsells, and downgrades. Strategize with precision by harnessing detailed accounts analytics. By understanding production patterns, you're equipped to always stay ahead. And with tools to measure rate and sold-out efficiencies, you will operate at peak potential.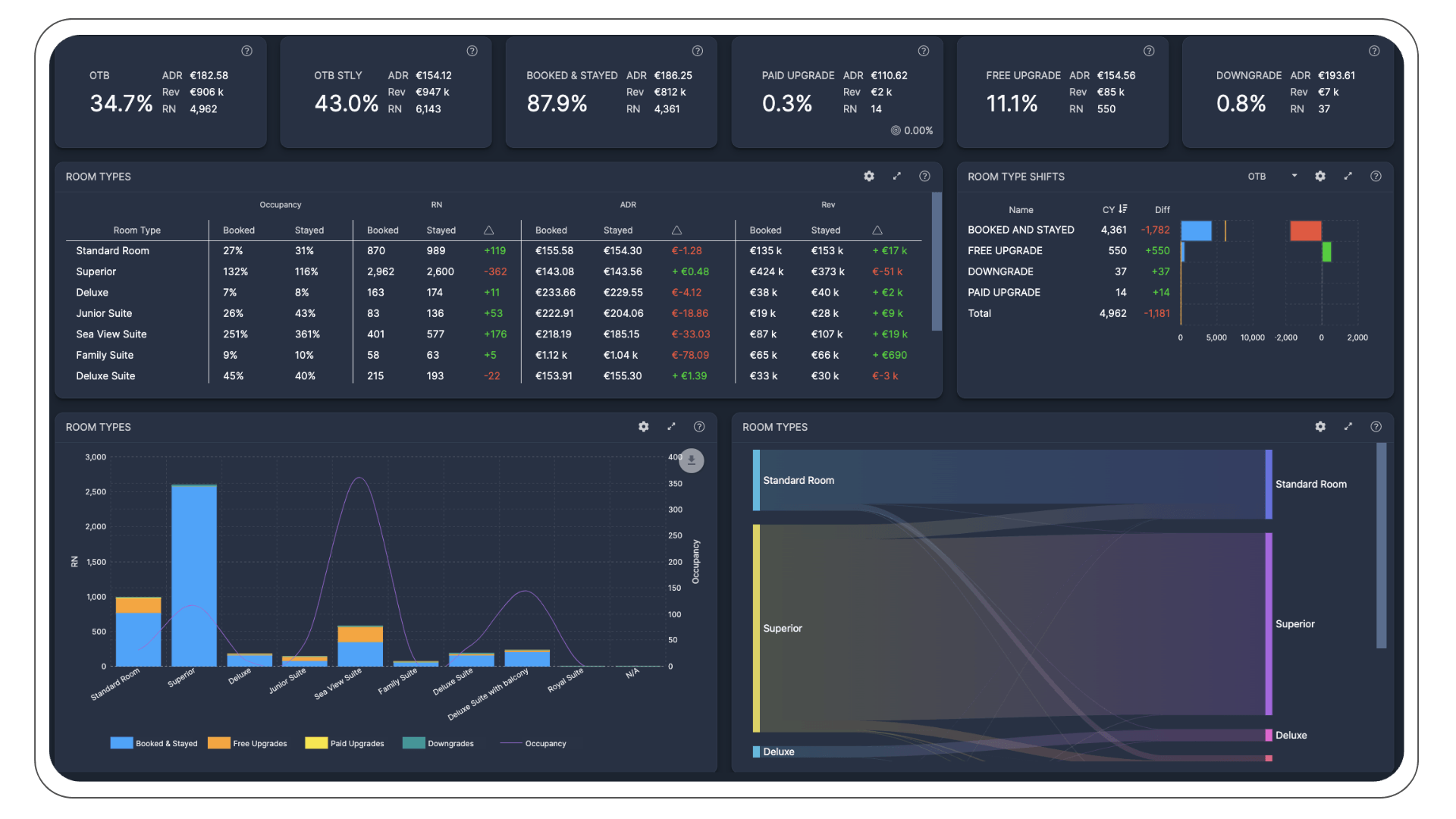 New!
Group Analytics
Unlock Your Group Business Potential! Dive deep into group booking patterns, and fine-tune your inventory between blocked and picked up rooms
Coming soon!
Integrate Finance
Revitalize your P&L structure down to the account level with unmatched flexibility, choosing precisely which business dimensions—you wish to display or conceal. Enrich your P&L with vibrant, color-coded custom calculations, from straightforward metrics like cost per occupied room to flowthrough.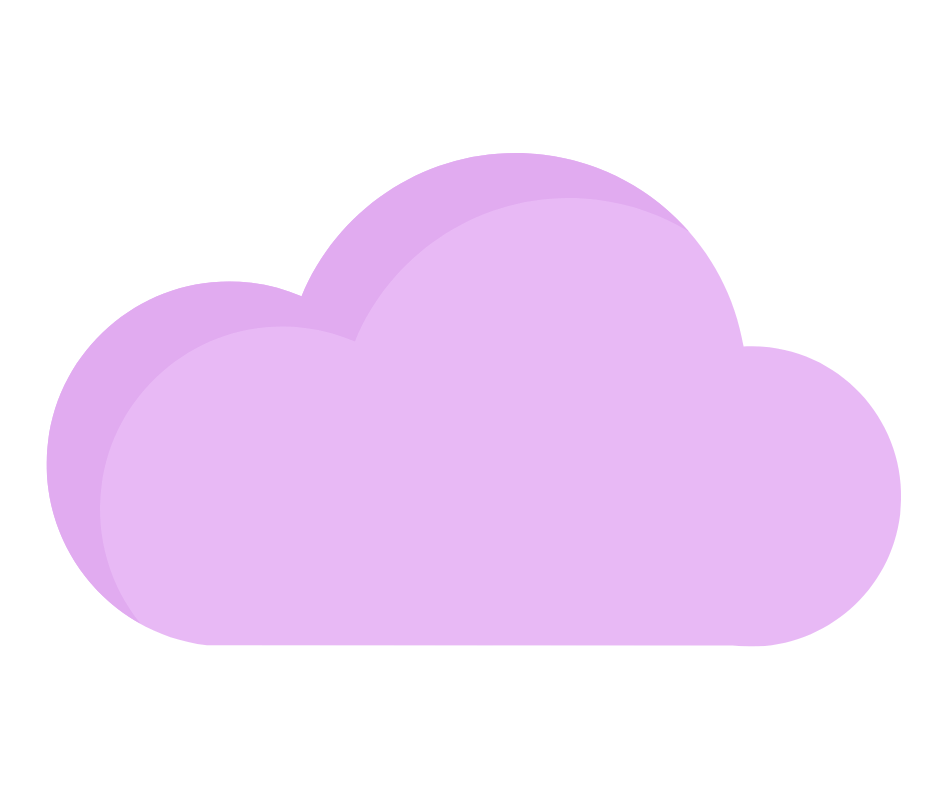 Data Platform
Accelerating insights with Connectivity, infrastructure and platform as a service
Enterprise
Data Platform Concept
The Juyo Data Platform is separated from the Juyo Analytics visualization platform and allows Enterprise Hotel Groups to integrate the data delivered by Juyo through an API/Data Feed into their own visualization solution.

Juyo connects to a multitude of data sources such as PMS, Finance, Reviews, Pricing and many more.

Juyo exposes the data via a secure custom API or data Feed to an enterprise hospitality business application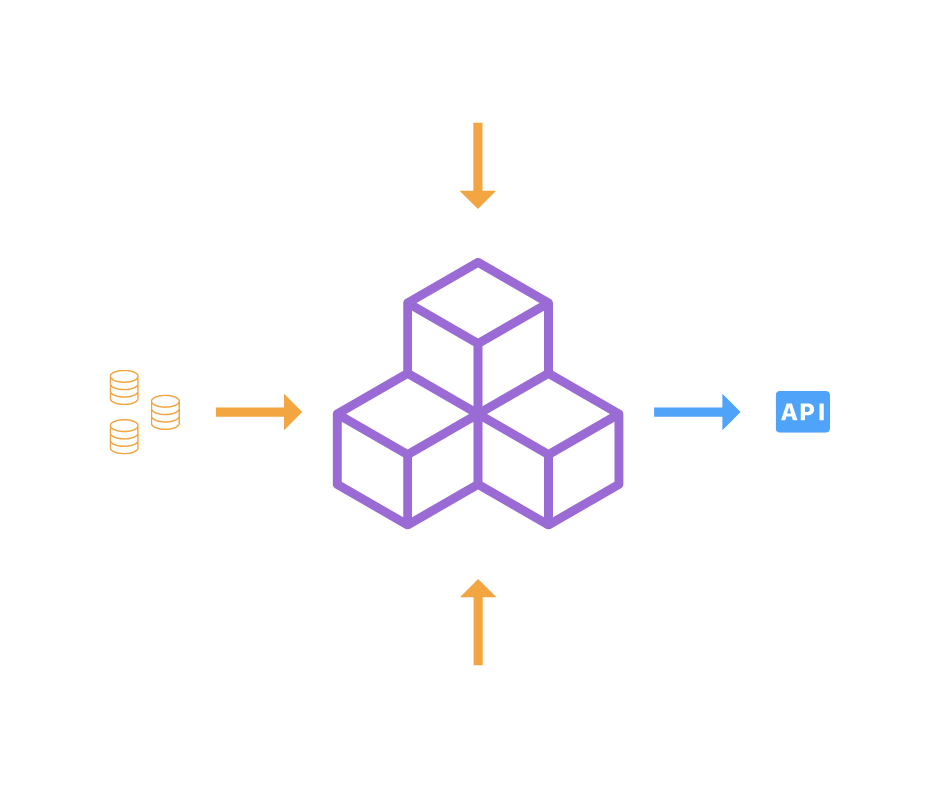 Juyo Embed
Juyo Embed delivers, interactive data visualization and advanced analytics directly into any web technology. 
Partner feature
Juyo Embedded Analytics Concept
Embedded analytics software delivers, interactive data visualization and advanced analytics, including machine learning, directly into an enterprise business application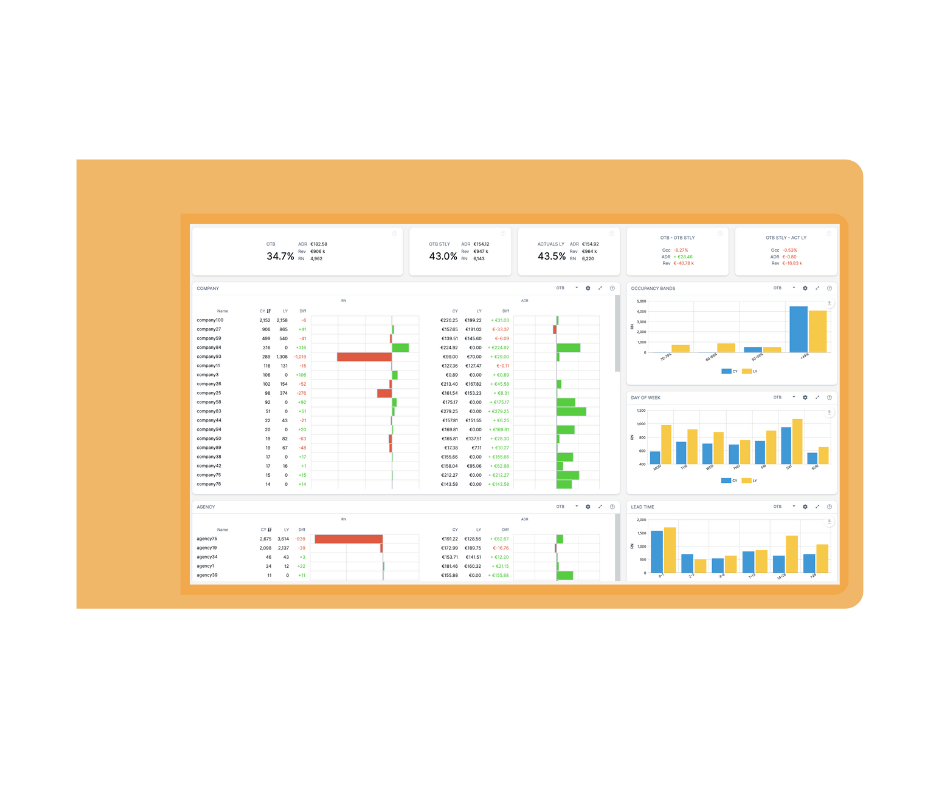 Want to see behind the scenes? Book a demo
Want to take your insights and decisions to the next level? Let's talk about your needs and how Juyo can improve your hotel's performance – schedule a call today to see it in action.