March 29, 2023
Palladium Hotel Group and Juyo Analytics Partner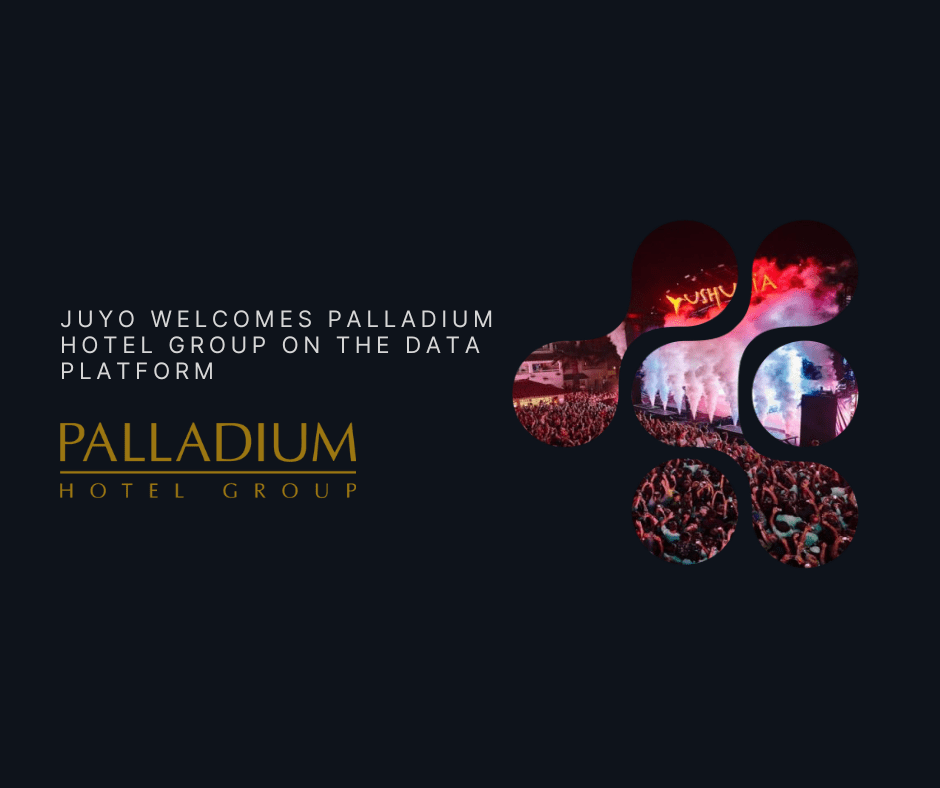 29th March 2023, BRUSSELS, BELGIUM – Palladium Hotel Group, a Spanish global leader in hospitality, and Juyo Analytics, a leading provider of Hotel Analytics and Business Intelligence Solutions, have announced today that Palladium Hotel Group will start using Juyo's new Data Platform technology across its organization. This new Juyo product helps large hotel chains and asset management organizations with a hotel portfolio to get more value out of their data.
The Juyo Analytics Data Platform will enable hotel companies to gain breakthrough insights and drive their profitability. This includes analytics to help better manage distribution costs, as well as to monitor and maximize the output from their sales and marketing budgets. Within the Juyo Data Platform, after ingestion of data, Net RevPAR is determined at reservation level and enhanced beyond just the elementary level of deducting acquisition costs, such as commission. Additional layers, including total revenue contribution, marketing costs, and even commercial payroll by geography, will create a deeper understanding of which bookings contribute the most to the bottom-line. Better understanding profitability by customer is a key objective which the Juyo Data Platform helps to achieve.
Thanks to Juyo's Artificial Intelligence engine, aptly named Kassandra, Palladium Hotel Group will be able to interpret their data beyond levels otherwise available. For example, how Cancellation Propensity across many dimensions influences the performance of a hotel. Kassandra also automatically aggregates duplicated company and agency profiles across the entire group for easier analysis, saving hotel commercial teams valuable time.
Palladium Hotel Group's implementation of this platform is in line with the hotel group's enthusiasm to innovate and incorporate cutting-edge tools that help to transform the business. From a global perspective and with a clear commitment to a better understanding and management of data, in recent years, the company has implemented innovative new methodologies to improve its processes and services, both at an operational level and in terms of sales and marketing actions. Thus, the group is ensuring it is efficient and agile when achieving objectives from a brand, business and customer experience perspective.
Palladium Hotel Group began implementing the Juyo Data Platform this March 2023.
Vassilis Syropoulos, Founder and CEO of Juyo Analytics said: "We're thrilled to be partnering with Palladium Hotel Group on this innovative project. Palladium Hotel Group is leading in the Revenue Management discipline in Europe in terms of vision
and the Spanish hotel company will soon be reaping the benefits of next-curve insights. The Juyo Data Platform will enable us to bring our data processing, enhancement capabilities and expertise to large hotel groups and asset management companies who are using their own visualization front-end.
These companies tend to operate an organization beyond just hotels and generally struggle with unorganized data coming from multiple internal or external systems structured in different ways. Sharing standardized and enriched data from the Juyo Data Platform to third party visualization tools such as PowerBI or Tableau will allow these clients to aggregate data across the board.
We are grateful for the support and trust of Palladium Hotel Group and for being able to work on such a game-changer for the hospitality industry."
"At Palladium Hotel Group, we have a well-defined vision for our revenue strategy. We have been working hard to develop a strong revenue strategy and the next step will be transforming our revenue scope to Profitability Vision. We chose the product and team at Juyo because of their deep understanding of our industry and their forward-thinking approach to solving challenges. We are always searching for ways to improve profitability and partnering with Juyo is the perfect opportunity to continue on that path." said Diego Fernandez Perez de Ponga, Corporate Senior Director of Revenue Management at Palladium Hotel Group.
About Juyo Analytics
Juyo Analytics is a self-funded, Belgium-based Hotel Technology company that helps hotels enhance and interpret data from multiple sources in a cutting-edge, fully customizable visualization engine. Founded by ex-hotel executive Vassilis Syropoulos, Juyo solves a challenge many hoteliers face: the absence of the possibility to harvest deep insights from unorganized and decentralized data sources placed within relevant context. www.juyoanalytics.com
About Palladium Hotel Group
Palladium Hotel Group is a Spanish hotel chain with over 50 years of experience, owned by Grupo Empresas Matutes (GEM). The group operates 40 hotels and over 13,000 rooms, distributed amongst six countries: Spain, Mexico, Dominican Republic, Jamaica, Italy and Brazil, and manages nine brands: TRS Hotels, Grand Palladium Hotels & Resorts, Palladium Hotels, Palladium Boutique Hotels, Fiesta Hotels & Resorts, Ushuaïa Unexpected Hotels, Only YOU Hotels, BLESS Collection Hotels and the Hard Rock Hotels Brand under licence with three hotels in Ibiza Tenerife and Marbella. Palladium Hotel Group is characterised by its philosophy of attention to its team and to offering its clients high quality products and services. www.palladiumhotelgroup.com